EDITWAD TUTORIAL: MERGING 2 OBJECTS WITHOUT RETEXTURING
written by the laziest builder on trf and trle, so it's probably good
TIP
: Have WadMerger, Editwad and Meta open all the time.
Let's say You have a modified CROWBAR_ITEM and You want to make a new CROWBAR_ANIM containing it. The thing your .wad needs to remember is: texture infos. You need to keep all of them - both for CROWBAR_ITEM and CROWBAR_ANIM. In my case, CROWBAR_ITEM was made of 2 meshes - You need to store texture infos for each of them.
1. So You need to create a .wad containing all of them. Name it "crowbaritem&anim_texinfo" or whatever You will remember.
2. Next, You need to add LARA. It has to be done in case of all "..._ANIM" objects.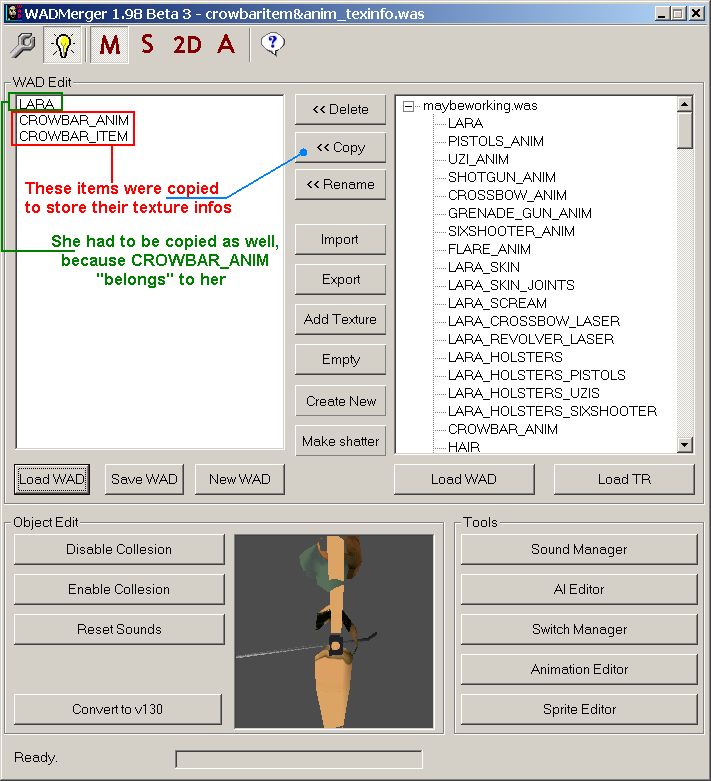 NOTE
: If You open StrPix or Editwad, You can notice there are only CROWBAR_ANIM, CROWBAR_ITEM meshes and LARA's upper leg visible in Your .wad. Don't worry - this is how it's supposed to look like: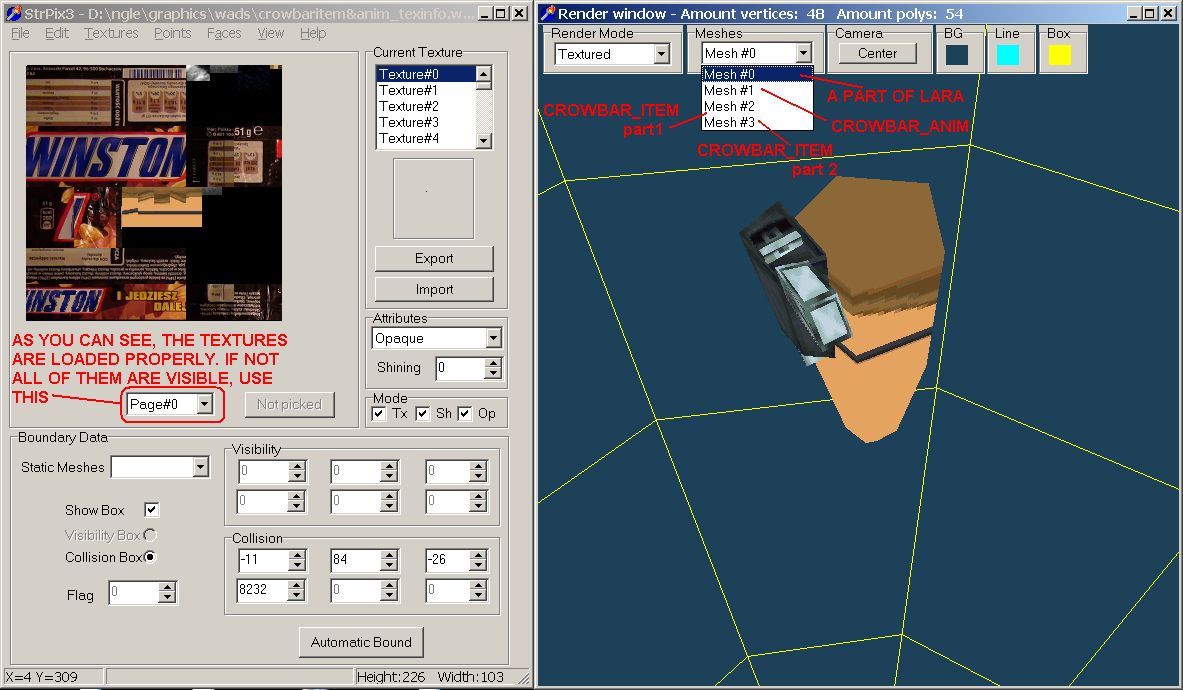 3. Open Editwad and save all meshes as .mqo EXCEPT Lara's leg... unless You want Lara to use her own leg as a crowbar (hmm... nice idea...). This exports all texture infos "attached" to their corresponding meshes.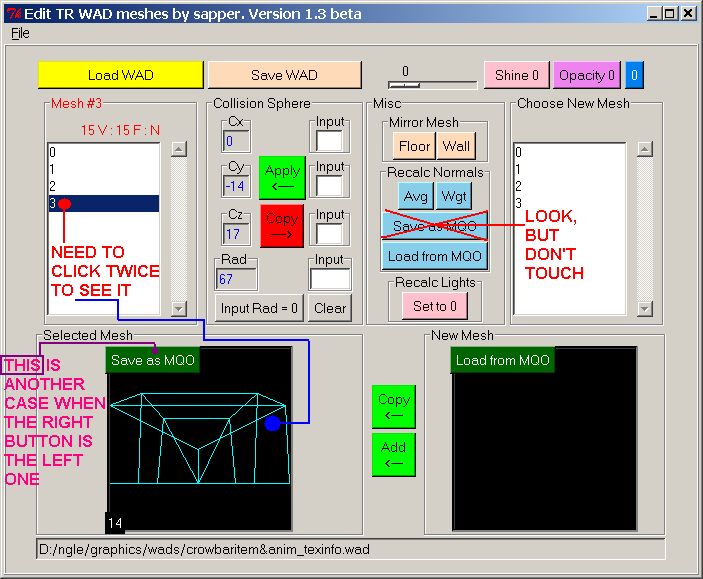 4. Don't close Editwad and open Metasequoia. Go to File->Open (or press Ctrl+o) and load the first mesh. No matter which one You start loading them with.
5. Next, go to File->Insert (
not
"Open") to add all remaining meshes (or press Ctrl+i).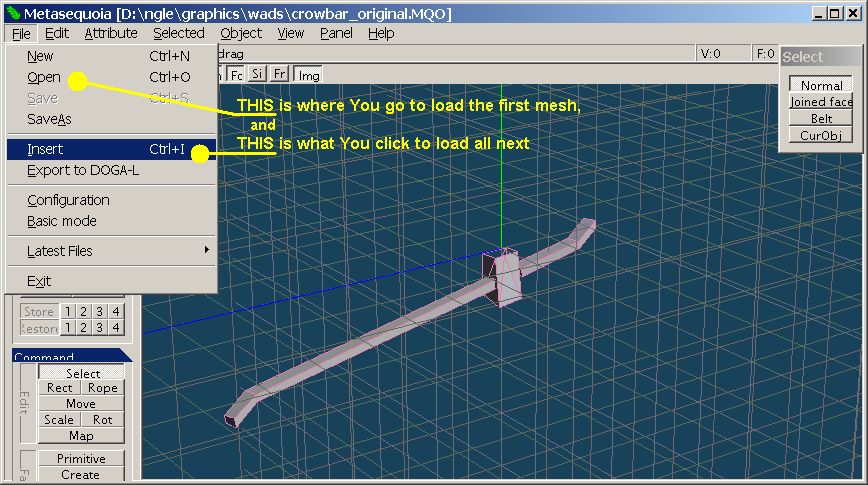 6. It all appears disintegrated: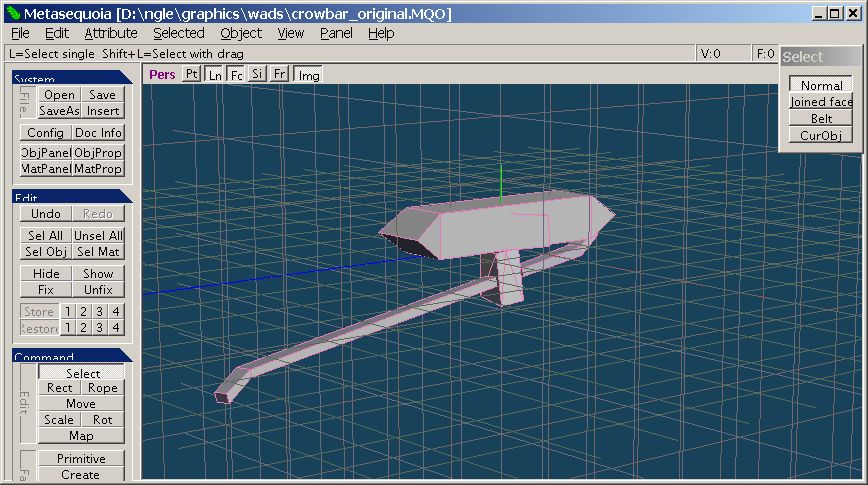 It needs to be fixed, but
before You move anything
, keep in mind what You want to create. In this case, You want to make a CROWBAR_ANIM connected to LARA, so don't move Lara's hand! If You do so, it will be misplaced ingame. So now, rotate/scale/move/etc. to make Your new CROWBAR_ITEM sit in Lara's hand: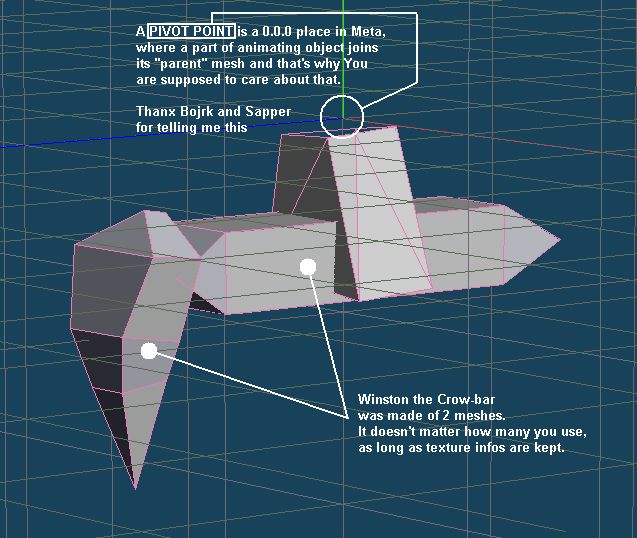 The work is nearly done
(I like this epic phrase in any tutorial, so it appears here as well)
.
7. All You need to do is to export the new CROWBAR_ANIM:
a) Go to File->Save and name Your anim the way You'll easily remember it: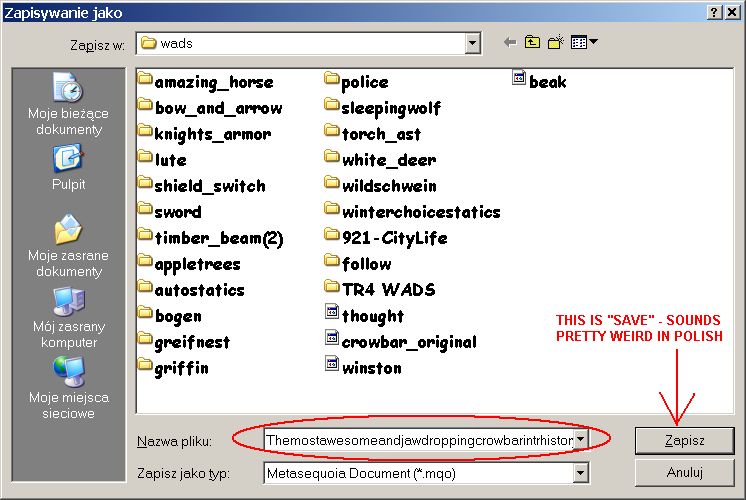 b) Get back to Editwad, select the original CROWBAR_ANIM, load Your new object from .mqo (the order doesn't matter)...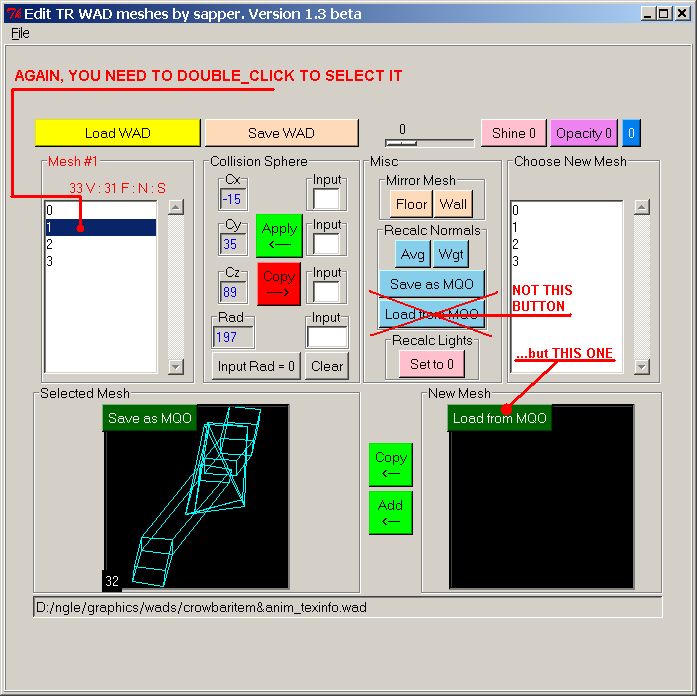 c) ...and copy it over the original one.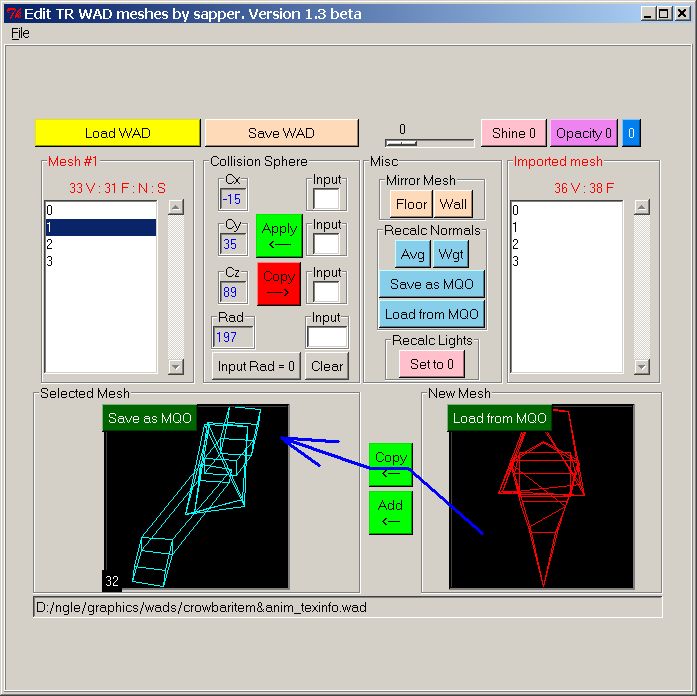 NOTE
: Don't panic when the mesh vanishes. This is normal: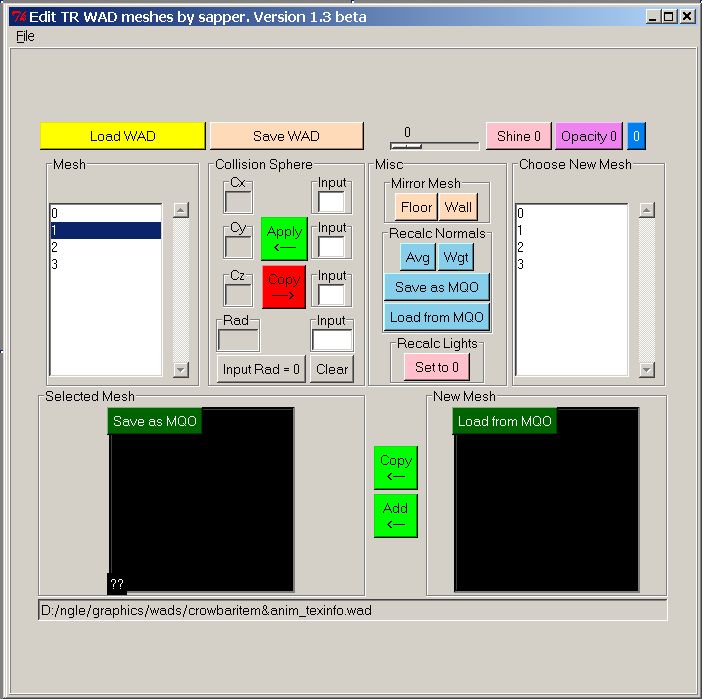 Just select it and everything is fine: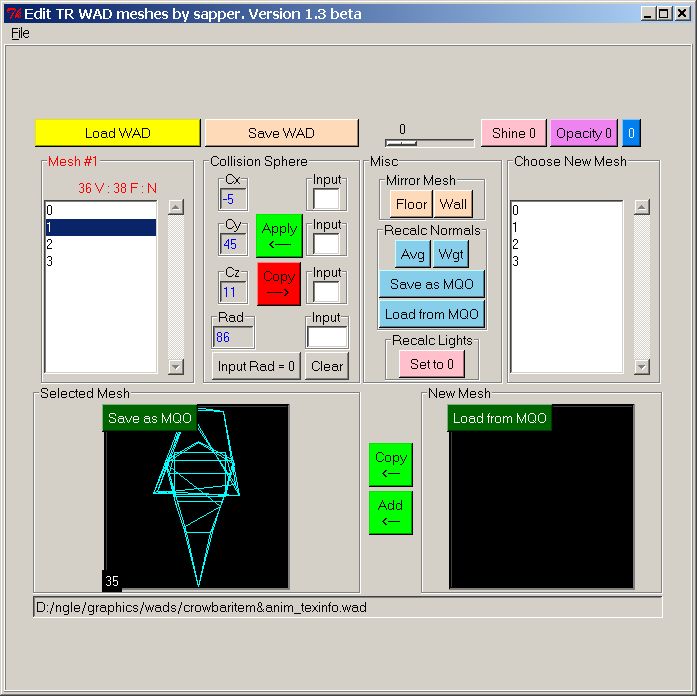 d) Save the .wad. Editwad does it with a different name, so no need to backup anything.
8. The ending...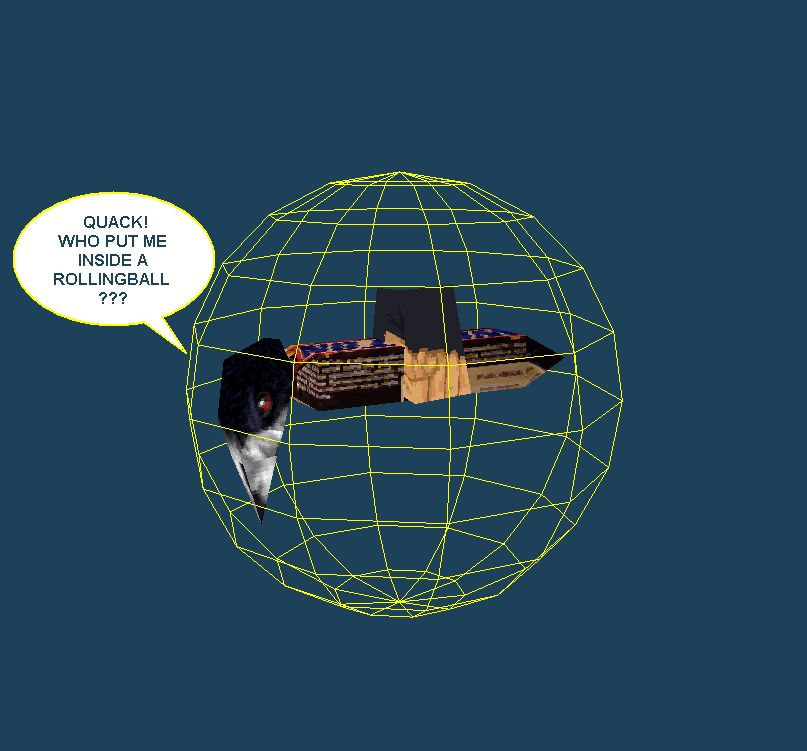 ...is just like the beginning.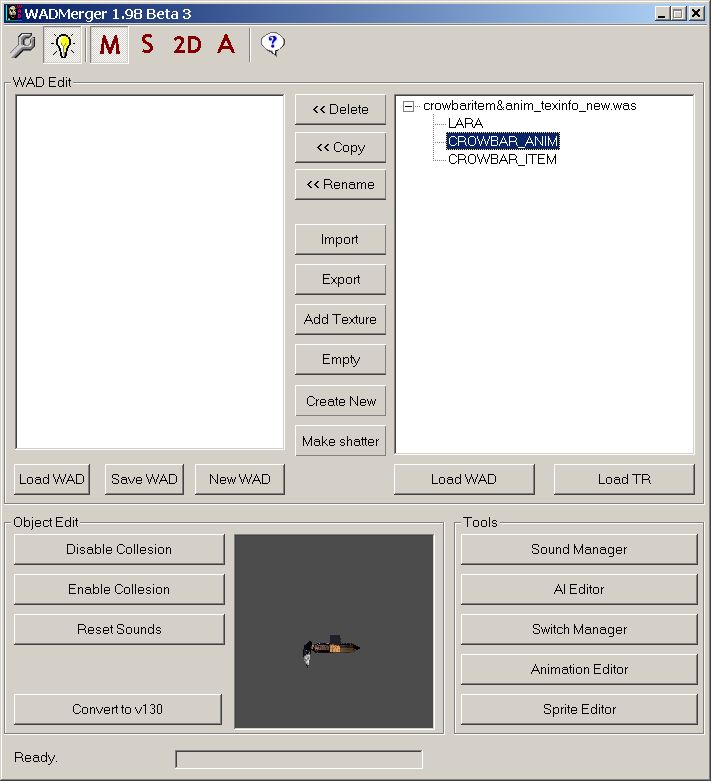 Now it's a good moment to understand what happened. Textures filling any .wad have different numbers. If You saved two meshes from different .wads as .mqo, most of their textures would have shared the same number. Merging meshes in Meta and importing them into a destination .wad would have caused texture loss and misplacement. Adding a new empty mesh in strpix to import a new one over it would do the same. That's why the first thing You had to do before doing anything else was to make a common .wad: to give every texture a different number, what - after merging meshes into a new object - allows textures to "recognize" their original places.