In St. John there's a mudslide hill that Lara can't reach the top of, yet there's clearly something up there.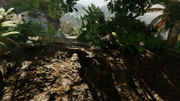 Try as I might, I've only been able to get her as far as the tree. She won't jump around it, but she
has
jumped up it twice.
If you could mod the game so you can either get Lara up there or pan the camera around so we could all see what's up there, I'd be very appreciative. I can already tell that some of the plants on the right hand side are curved and would like to know what the rest of the area looks like.
If anything, it's fun to speculate that, perhaps, EM will put one of the DLC challenge tombs up there!