To make an horizon visible you need to do 3 things:
- Make the script changes
- Add an horizon to your wad
- Build the outdoor rooms
Each step is decribed below.
1) Make the script changes
Ok first make sure you have
HORIZON=ENABLED
in your script.
This is what the script should look like:

Horizon=ENABLED
The game-engine will now know it is supposed to show an horizon in the level: it will make the horizon you have put in your wad visible.
Layer1= 160,160,192,7
This is needed when you have an horizon that supports moving clouds.
- TR2 and TR3 style horizons don't support coulds, TR4 and TR5 style horizons (cilinders with open top and botton) do support moving clouds.
- The first three numbers determine the colour of the coulds, the last number determines the speed at which they move. Make it a negative number and the clouds will move in the opposite direction.
2) Add an horizon to your wad
For an horizon to become visible you need to add a
HORIZON
object to your wad.
You can use
WADMerger
to copy the horizon of your choice into your own levelwad.
If your level will have moving clouds you'll also need to copy some
SKY_GRAPHICS
into your wad.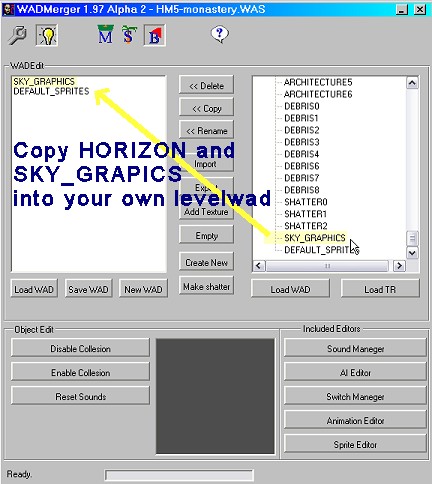 To check whether or not your wad already contains sky-graphics you need to press the
B
button in
WADMerger
, like it was done in the above screenshot.
3) Build the outdoor rooms
Open the
level editor
and load you level or create a new one.
Go to the room from which the horizon should be visible (outdoor room or room with windows, etc) and then look at the little black box at the bottom, at the upper lefthand corner of the
Colour Palette
.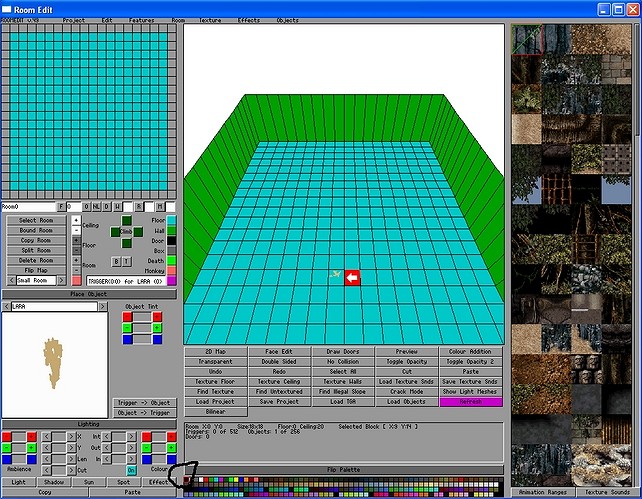 Right-click on this little black box to select the coulour. (Make sure that
Lighting
is turned off in the room, otherwise the ambient lighting of the room will turn to black)
Click
face edit
as well. Now click on the wallparts and ceiling tiles you want to appear tranparant ingame. The wallparts and ceiling parts will now be textured with this black tranparency texture. It will appear as white in the editor.
The walls and ceiling should look like this: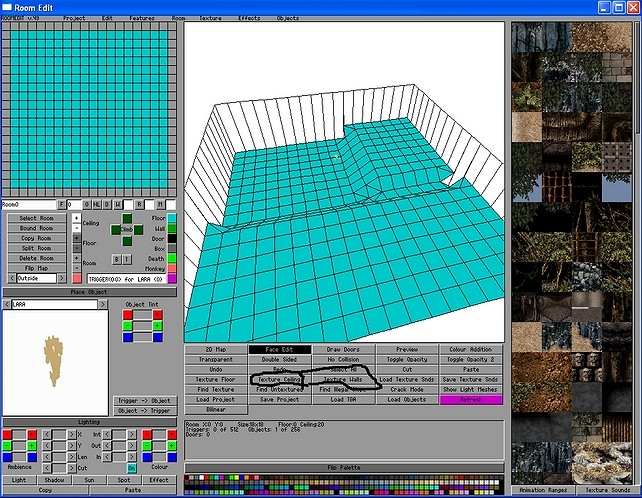 Now save what you have done and output your wad.
Convert the level and start your game.
Play the level and if everything has been done correctly your horizon should be there.