Stripix Light Editor.
The light editor in stripix is a useful tool to light static objects. The reason for this is because statics do not have control of the lights around them, and are not affected by them either. Therefore you can create your own lights and shadows to simulate some sort of light behaviour.
In the tutorial I will show you how to light the Tr3 shiva statues correctly.
1)Take a look at your object. You need to decide where the light is coming from and where it will be blocked off to create shadows. The best direction of light is to presume that the object has its light source above it:
2)With this in mind you can begin to light it. Open your WAD in stripix and press "CTRL+L". You will get a panel like this:
3)Tick the "Enable lights button" and then press "change all". You will notice the object changes contrast. That means the lights will now work at it. Now you can move the slider to add shadows and highlights. To do so start off by moving the slider to the left so it reads "0" and then click on the head. It will go lighter like so: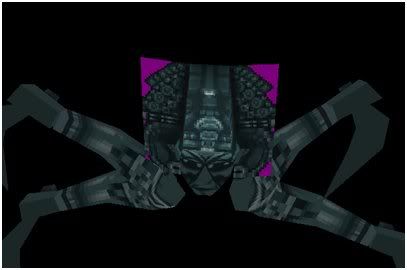 4)This now means that that face will be lighter then the rest of the object. Finish off texturing where you imagine the light sections would be until you have something that looks like this: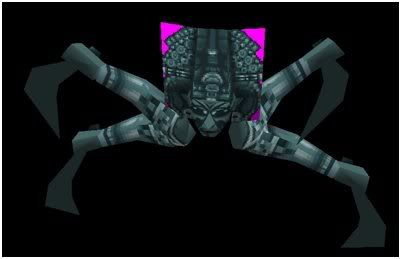 5)It is looking better already. However without light there is no shadow so now we need some shadows. Set your slider to 23 and again, click on the areas (usually the reverse of where you clicked for light) to add some shadows. 23 is not the highest but 31 tends to look too strong in game.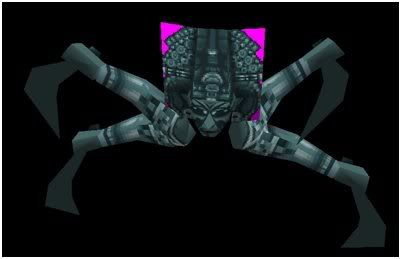 6)
Now it is looking much nicer and much more realistic. Now simply save your WAD and test it in game.
ADVANCED LIGHT EDITOR:
The light editor is rather complex and actually very advanced at stages. You may be wondering what the 4 "vertex" buttons mean at the bottom of the light editor. What they do is tell the light which vertices to affect on the face you have selected. It is hard to tell verbally so here is a diagram: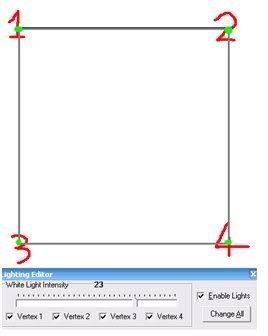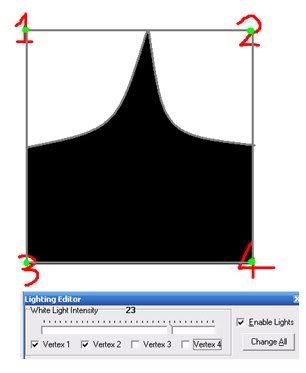 Basically un-checking some of the boxes in the light editor means that the light you are trying to apply won't affect that vertex. In order to find which vertex you need to just experiment and do it by trial and error, there is no certain way.
Also, you may be wondering why, even though you applied lighting to your object and saved it all correctly why the lights you added didn't show and your pistol light did. Simple; you have imported it wrong. Any static needs to be imported as a static mesh:
So the lighting editor works on it.
Also, it is important to note that if you decide to retexture/re-import something after changing it the lighting will
not
be saved. It is advised to do the lighting on the static object at the very last stage of the object, when it is perfect and is not needed for change.
Thankyou.