Well its not a great trap but its pretty fun to play around with, you can try and find some effect or something but this is just to give you an idea...
OK!
So im using a crawlspace area (its what im using you dont have to you can use whatever).
Theres a big room with 3 crawlspace's, 2 are deadly and 2 is good...
Go to the room you want the trap in...
Heres my crawlspace: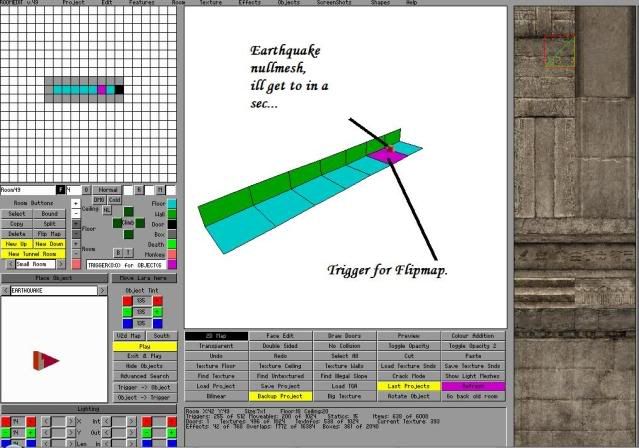 The nullmesh is an earthquake, ill get to that in a second..
that trigger under the nullmesh is the trigger for the flipmap. Once in your room texture/light it, then click on the F button next to the "roomX" textbox. This will create a flipped room,
the background color will be black! watch for the black and DO NOT CLICK THE F BUTTON AGAIN!
, in the white textbox next to the F button it has a 0, in that box put a 1. But if you already have a flipped room with 1 in it then put 2 in there or 3 or 4, depending on how many flipped rooms you already have in your level.
Now that we are in our flipped room, push the DMG button right by the F and COLD button. This will make lara lose health once shes in the room...
Now hold down ALT and press F (F on the keyboard) now your back into the non flipped room. right where you want lara to trigger her health to go down, put a trigger there and make it look like this: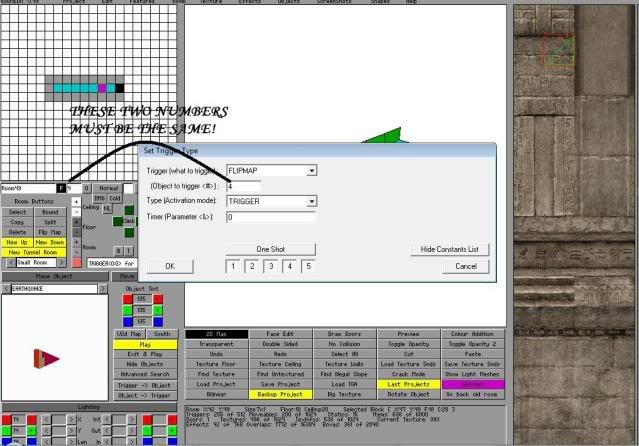 now to the earthquake nullmesh.
This is optional, you don't need it..
Find "earthquake" in your objects list, place it on the trigger for the flipmap, then trigger the nullmesh on the same square as the flipmap trigger, open up the trigger box and in the timer feild, put how long you want it to last for. now once again hold down ALT and push F (on the keyboard) and your back in your flipped room. Now do something to cover up the way out, Slant the ceiling, bring up the floor, place and object whatever you think would fit. Test ingame and repeat for other rooms
.