An advanced workflow using Metasequoia as an editor
Forward:
I made a tutorial on the workflow I used for meta2TR. Well it was first started when the v6 of Meta2Tr was released and since now few things may have evolved and became easier.
The tutorial:
So here it is a full PDF of 20 pages made like our old TRLE handbook/starter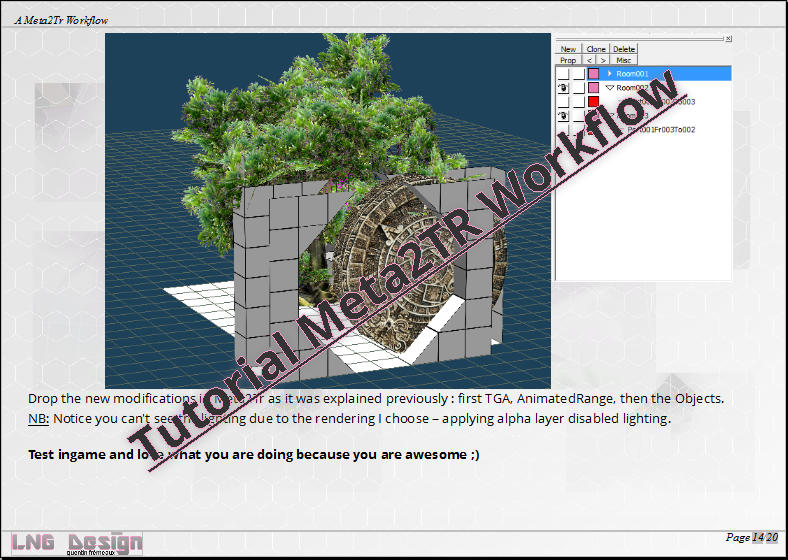 Click on the image to access the file - it may be easier to download the file then reading it.
This tutorial isn't a full guide to Meta2Tr,
the website is a great helper to learn the basis
. But my tutorial will help you to understand how to work with Meta2Tr, how to fully build your level in Metasequoia like if it was the editor - or nearly.
Quote:
NGLE will only be used as the placeholder for collision and the gameplay with triggers and moveables. You won't need statics – excepts the fact these statics will be used as invisible objects to fake some complex collisions. Metasequoia will be used as the Graphic Engine, you will create rooms as it were objects, then adding them in-game. You will be able to create ultra-customizable objects ready to import/export in any levels thanks to this method.
Let's talk about it:
If you wanna talk about it don't hesitate to go on
this thread
, so you can:
Ask your questions
Give your own tips
Notice some errors in this process - yeah I'm still learning
Provide examples of workflow...
This tutorial is kind of a second step to Meta2Tr world and it can be completed with the awesome
video tutorials made by Psiko
. He also pointed to me few points to correct and give me some piece of advice. Thank you to anyone that help in their own way